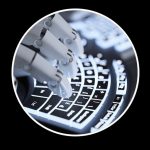 Robotic Process Automation – Challenges of Implementation in the Financial Services Industry
In more established industries, finding new ways of increasing internal efficiency while maintaining a high level of customer satisfaction is persistently becoming more crucial not just to achieve success, but also to survive in an ever-competitive environment.
The Financial Service Industry (from now on, FSI) belongs to this category of slowly increasing markets and shows several characteristics that make it one of the best subjects for the application of Robotic Process Automation.
Robotic Process Automation (from now on, RPA), often referred to as "robotics" or "robots", is defined as the automation of rule-based processes with software integrated at user interface level that can interact with the internal information technology landscape or external web application simulating a human. In other terms, RPA is a software solution that mimics a variety of rule-based, repeatable processes that do not require real-time creativity or judgment.
Classic processes that can benefit from RPA typically have repeatable and predictable interactions with IT applications, including those that may require toggling between multiple applications. These peculiar characteristics can be easily found in almost all of the totality of FSI middle and back-office processes.
In essence, a robot can perform activities like opening emails and attachments, logging into web/enterprise applications, moving files and folders, filling in forms, reading/writing from databases, scraping data from the web, connecting to system API, extracting structured data from documents and following "if/then" decision rules. On the other hand, a robot is not designed to: read hand-written documents, understand the meaning of documents, self-adapt to variations of the underlying applications, produce physical outputs, perform complex tasks requiring human interaction, cognitive systems or artificial intelligence.
Benefits
The main results of a successful RPA implementation are identifiable in significantly faster (payback at less than 12 months[1]) and higher ROI, achievable with a limited investment compared to a traditional IT project and tangible efficiency improvements (about 20% of FTE capacity coverable by robots on average[1]).
Nonetheless, organizations adopting RPA solutions typically experience benefits beyond mere cost reduction and speed of implementation:
Decreased cycle times: usually robots are faster than humans in work execution and can run 24/7;
Flexible cost structure: robots can be scheduled and reassigned depending on the current needs of the organizations (e.g. by dynamically allocating more robots to more cumbersome or urgent processes);
Improved accuracy: as long as any exception is properly mapped, robots cannot fail in the standard execution (e.g. they do not make typos);
Improved organizational structure: RPA can free staff from the more repetitive and alienating tasks and enables a more valuable personnel allocation;
Detailed data capture: robotic solutions are designed to provide users and controllers with a wide set of reports and logs, useful for supporting further process improvements, auditing and bolstering regulatory compliances.
Challenges
These are just some of the examples of the benefits that a robotic solution can yield to a financial service provider, which well explains why nowadays RPA has become a key topic of the business jargon of this industry.
Yet there are several challenges that may emerge when implementing a RPA solution, whose nature can span from mere technical and infrastructural issues to strategic and behavioural matters.
First, RPA is so effective in the short time that it incurs in the risk of being considered as a simple "patch" solution, only able to quickly solve a temporary issue, with the result that Proof of Concepts and Technologies take precedence over a cohesive, end-to-end strategy that considers also people change management implications. Moreover, organizations often take a de-centralized approach to RPA, testing the capability across multiple functions with uncoordinated initiatives. This short sighted approach eventually leads to an ineffective scaling of RPA throughout the organization.
On the other hand, a successful pilot implementation may create a misconception of what RPA is actually capable of, overestimating its possible applications also on processes that do not comply with the automation basic requirements. More commonly, organizations perform an RPA transformation without considering broader value propositions comprehensive of complementary technologies, which drastically reduce the possibilities of an effective implementation.
In some cases, employees may turn to be apprehensive about the potential impacts of service automation on their jobs, and executives cannot neglect this aspect. Indeed, where one side sees an opportunity for better allocation of resources to more valuable activities, the other side perceives a threat to their role in the organization. In the worst case, staff members might panic and even sabotage new initiatives.
Finally, even though RPA is designed to mimic human behaviour, a minimum of process reengineering is required in order to effectively automate the activities. This fact adds to the basket all the possible issues that may occur whenever a change is brought to a consolidated procedure, and the complexity is further increased if we consider that the change involves both the business and the IT functions.
The largest threat that all these elements bring together is the concrete possibility of a stand-alone RPA implementation, as showed in a research conducted by Deloitte in 2017[1] over 400 firms spread across the world. Indeed, while 53% of the interviewed sample had started an RPA initiative, only 3% was able to scale such activities and reach a steady productivity state.
Solutions
Therefore, despite the easiness of implementation of an RPA solution compared to a traditional IT change, a concretely effective process automation is far from being a simple task.
Indeed, the correct adoption of RPA in the organization requires executives and users to take into account several aspects, not just IT-related, such as:
A strong commitment from management to help deliver the service automation vision. This can be achieved by steering internal communications to inform staff about the service automation strategy and timing and its effects on employees;
An early involvement of IT professionals to avoid risks to the organization, such as exposing sensitive data, and to plan a comprehensive automation roadmap, which is crucial to ensure a proper development of RPA aligned with traditional systems evolution;
A direct engagement of employees in the design and implementation of the RPA solution, which can also be very effective in reducing resistance and can lead to further positive impacts including higher job satisfaction.
The result of these considerations is the creation of a centralized Center of Excellence inclusive of the organizational layers involved in the initial implementation. The CoE will represent the unit that, by applying a sound governance framework, will be in charge of the evolution of robotics in the organization.
Under a strategic perspective, to successfully start and maintain an RPA initiative, an organization should:
Adopt a different mind-set that considers a new category of digital workforce, inclusive of users and robots as well. This novel perception requires first to start with a bold ambition for the digital workforce, which is then translated in a continuous transformation programme. In turn, this needs continuous and apt investments: RPA should not be considered as an one-off cost, but its effective implementation and improvement has to be sustained over time;
Be aware that RPA actually represents only the first step of the automation spectrum. Indeed, RPA can get more effective if it is connected with other supporting/enabling technologies, such as BPM, OCR and Machine Learning. The development of further, "smarter" technologies with RPA tools enables the real paradigm shift towards the Intelligent Enterprise;
Manage RPA issues that can emerge in aligning the new solution with the current IT architecture, by having a strong checklist in place regarding infrastructure and compliance requirements. This point is crucial in order to ensure that the correct infrastructure is in place and compliance requirements have been met early on in the project. The proper architectural alignment comes first with the targeted selection of the RPA vendor that best meets the business needs.
Maximizing the impact of RPA requires a committed shift in mind-set and an approach switch from experimentation oriented to transformation oriented.
Conclusion
The recent developments of the Financial Services Industry are shifting the focus on efficiency. Thanks to its ability to deliver quick and concrete results with a limited investment, RPA appears to be the right solution for such emerging needs.
Yet, despite the several benefits provided, RPA comes also with some potential issues that may halt its development. Elements like poor planning, employees' resistance and change aversion may indeed represent a critical obstacle to a proper scaling of RPA in the organization, which would lay-off many of the potential benefits.
Therefore, for an organization resolving to this kind of implementation it is essential to adopt a strategic approach inclusive of both the organizational and technical aspects that considers RPA as the starting element towards the realization of the digital enterprise run by the digital workforce.
Alessandra Ceriani – Partner Deloitte Consulting
Alberto D'Elicio – Manager Deloitte Consulting
Giuseppe Scotti – Analyst Deloitte Consulting
Notes
[1] Deloitte, The robots are ready. Are you? Untapped advantage in your digital workforce, 2017